Interoperability, simplified

Finsemble is a no/low code Smart Desktop platform that allows any type of application to sync, link, and share information, even if they weren't originally designed to. This is known as "desktop interoperability" in the industry, and Finsemble does it best. Smart, automated workflows improve efficiency, reduce error rates, and allow users to focus on higher value tasks.
"I said automate everything. From a trading perspective, automate everything. However, while doing so, keep people first."
—Carl James , Global Head of Fixed Income Trading, Pictet Asset Management
Work (flow) like never before
Interoperability allows you to automate rote tasks your traders, PMs, compliance officers, and back office engage with, freeing them for higher value tasks. Connect your OMS, market data terminal, inventory management system, CRM, etc. in intelligent ways so that multi-step processes are streamlined. Benefits include:
Respond to client requests faster 
Deliver contextual insight and trade ideas to clients during calls/chats
Improve the efficiency and effectiveness of the trading desk
Deliver a better client experience 
From expediting the RFQ process to streamlining FX Swap, automating workflows is what Finsemble is designed for.
Benefits of the Finsemble Smart Desktop
Clients can assemble applications into shareable, publishable workspaces and sync FDC3-enabled applications—no developers needed. Learn more.
Finsemble leads the industry with a comprehensive UI/UX toolkit including floating, dockable launchers, application catalogs, and consistent title bars for HTML5, Java, and .NET applications.
Finsemble offers an app authentication framework connected to SSO, entitlement-driven configuration of the UX, and adapters which connect to storage systems for items such as user profiles and workspaces.
Our clients have switched from competitors because Finsemble is the industry's interoperability leader. We here to help you get your project off the ground, faster. See Pictet Asset Management's case study.
We work with client teams from proof of concept to end user rollout, including strategy, developer training, third party integration, and implementation—all included in our competitive license fees.
Fast-track to interoperability
Finsemble is the industry's first no-code smart desktop platform. In under an hour, clients can assemble any type of application into shareable, publishable workspaces. This means your Innovation Officer, Head of Product, or any business user can build a smart desktop without developer support.
Point and click Smart Desktop Designer GUI expedites application integration, UX design, and security
Assemble, customize and deploy into production a complete smart desktop in under an hour
FDC3-enabled applications can interoperate out-of-the-box
Save development resources and see faster time to market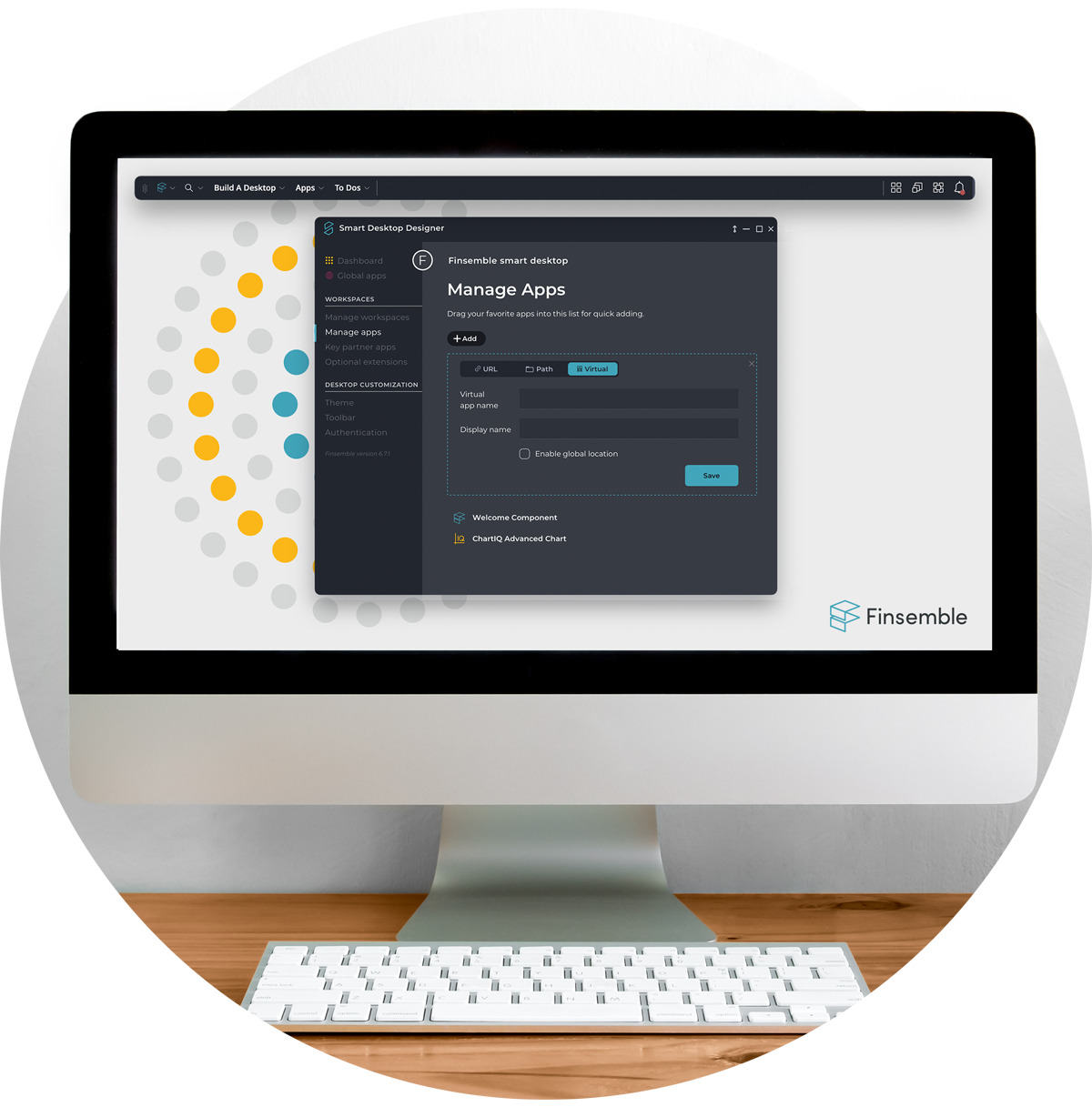 Finsemble use cases
Application interoperability is just the beginning. There are many ways our clients use the power of Finsemble to transform desktop performance.
What problem can we help you solve?
Eliminate manual re-entry and fat finger errors. Gain effectives across the enterprise.
Transition to HTML5 to leverage your investment in legacy apps.
Run web apps side by side with legacy or in-house apps.
Deploy new technology to users seamlessly.
Build a better UX for your users.
Capture the accretive value of your acquisition in a fraction of the time.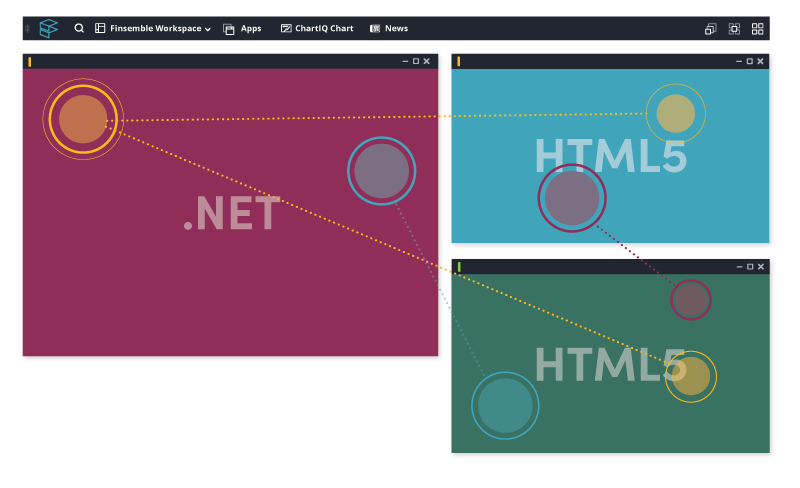 Industry-leading native support
With Finsemble, get the tools you need to seamlessly incorporate native applications into your smart desktop workflows. Because the majority of our client's apps are native, we're committed to making these applications they use every day equal participants on the desktop. You won't find native support like ours anywhere else.
Learn more about native support with Finsemble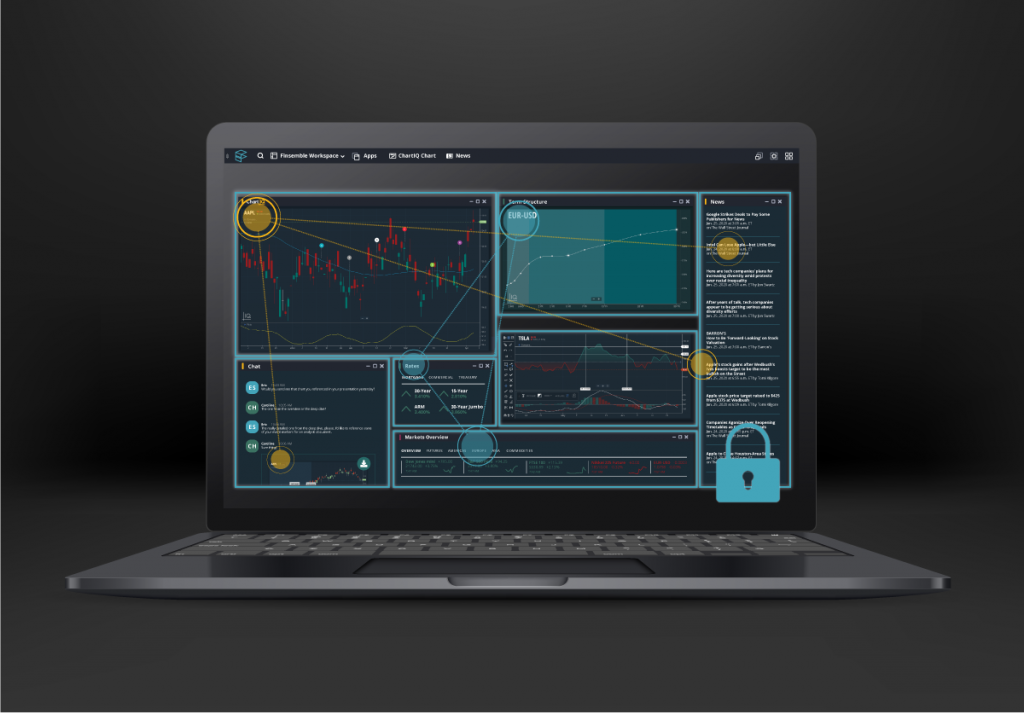 The gold standard in security
Once you bring web technology to the desktop, security issues arise that must be mitigated. By making the choice to run Finsemble on the world-renowned Electron platform (and adhering to FDC3 standards) we became part of a community with one common goal: to improve the way applications interact on the desktop.
We are here to shape a new (and secure) way to work.
Learn how we did it