Check out our partner Adaptive's post Reactive Trader Now Runs in Finsemble.
Finsemble is a desktop integration platform with pre-built desktop services that allow developers to build a cohesive desktop faster than they thought possible.
Developers can take advantage of out-of-the-box user controls and UI components, including granular pieces like buttons, toolbars, and menus that are pre-built and customizable. These components can be used as they are, tweaked, or used as a pattern for developers to build their own. Finsemble engineers spent years discovering (and solving for) problems that inevitably arise when building a smart desktop. You can read more about the tools provided and the problems that Finsemble developers solved for here.
Recently, one of our Ecosystem Partners has put Finsemble's promise of accelerating time-to-market to the test. Adaptive, a capital markets consultancy specializing in the development and support of real-time trading platforms, took advantage of the speed with which they can build and augment their platform using Finsemble. With a proven track record of delivering powerful, elegant, and intuitive trading platforms using the latest technology and techniques, Adaptive took an already impressive web-based real-time FX trading platform, and supercharged it on the desktop.
In Adaptive's post they explain step-by-step how they delivered a componentized desktop version of their existing application within a few hours.
We love Reactive Trader and think it's a beautiful web interface: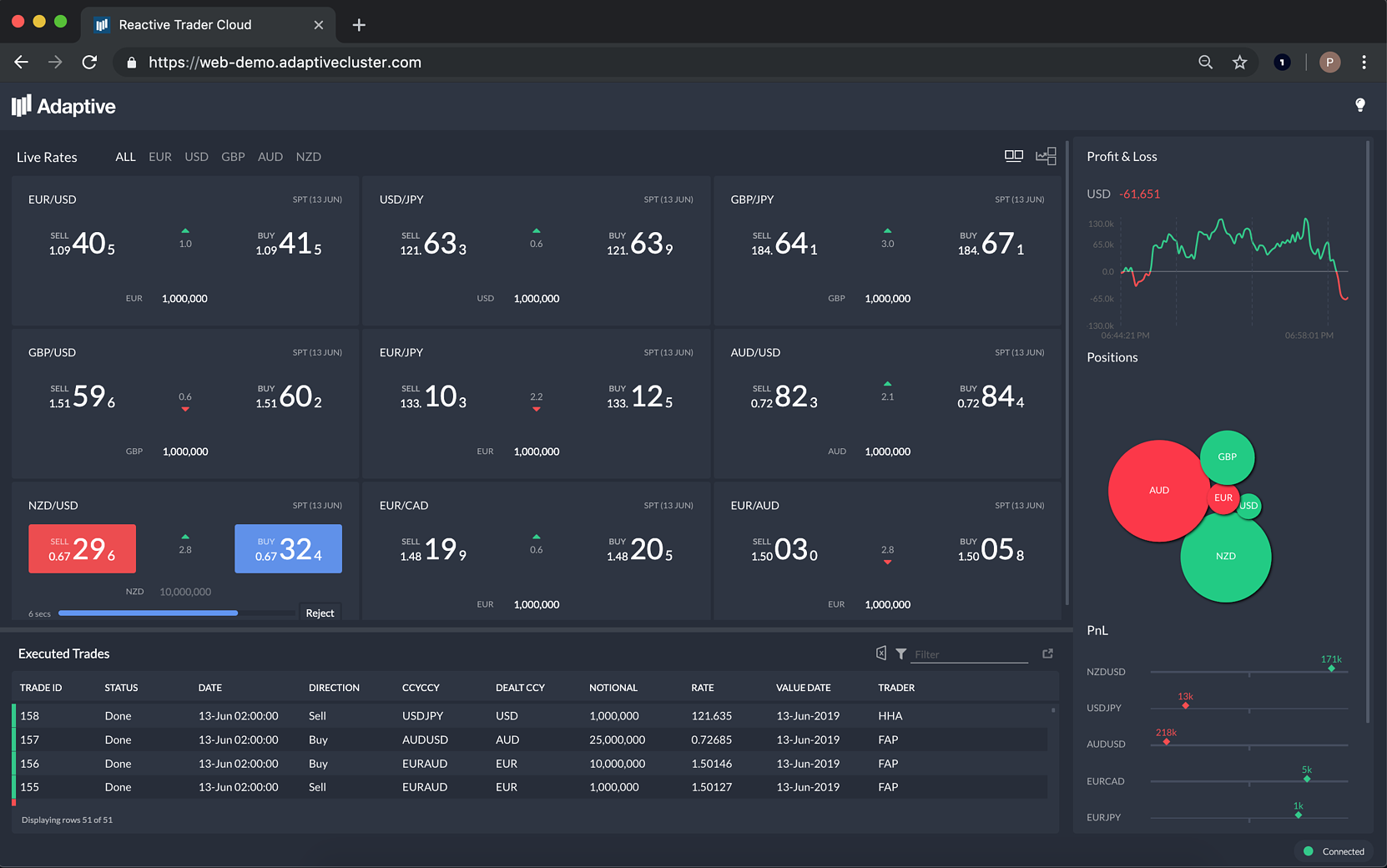 But we also know that single-page web applications have limitations.
With Finsemble, Reactive Trader now comes to life on the desktop, sharing context between components and empowering smooth workspace management via a modular desktop services architecture. And the best part is this entire project was brought to life within not days or months—but hours.
Finsemble eliminates the significant developer effort needed by building internally. If you want your project done quickly, do it with Finsemble. Learn how you can get started with no-code.
Interested in a desktop integration platform ready out-of-the-box?
Schedule a Finsemble Demo