At Finsemble, we're attune to what the future holds for web and desktop applications and encourage the ongoing conversation—whether it's around PWAs, micro frontends, or new FDC3 1.1 standards. A new white paper from Scott Logic, a software development consultancy specializing in financial services, contributes to the conversation. "Building an integrated desktop application ecosystem for Finance" is a valuable asset for anyone looking to learn more about application interoperability and smart desktop solutions like Finsemble.
The Evolution of FDC3 and Finsemble
Finsemble is a committed FDC3 participant. Communication between applications is what makes Finsemble tick. But what is FDC3?
Learn more about FDC3
In the finance world, legacy tech provides a real burden on project managers trying to innovate disparate systems. Platforms like Finsemble can de-stress the headache caused by these old systems, eliminate the need to sunset and lose costly investments, and provide the technology to make these applications "new again."  Download this white paper for answers to questions like:
What are some of the challenges involved in moving from legacy desktop technologies to web technologies?
What are the core building blocks required to build an integrated desktop application ecosystem using these different technologies?
What does a better future look like for end users and the enterprise—particularly in finance—when it comes to building workflow between these applications?
What are some of the various products that form the building blocks of this ecosystem of the future?
Exploring solutions that evolve financial desktops is important. Whether you are researching Electron versus other container technologies, curious about the free and commercial products out there, or learning about bringing legacy tech into a smart desktop environment, we highly recommend checking out this white paper.
---
---
Scott Logic Webinar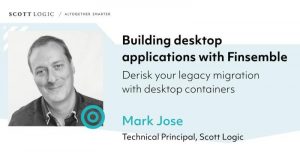 Webinar Recording
Check out this Scott Logic webinar about building desktop applications with Finsemble. See how migrating away from legacy tech doesn't have to be such a headache in this new world of desktop interoperability. Mark Jose, Technical Principal at Scott Logic, hosts.
Watch webinar here.