Finsemble for Buy-Sides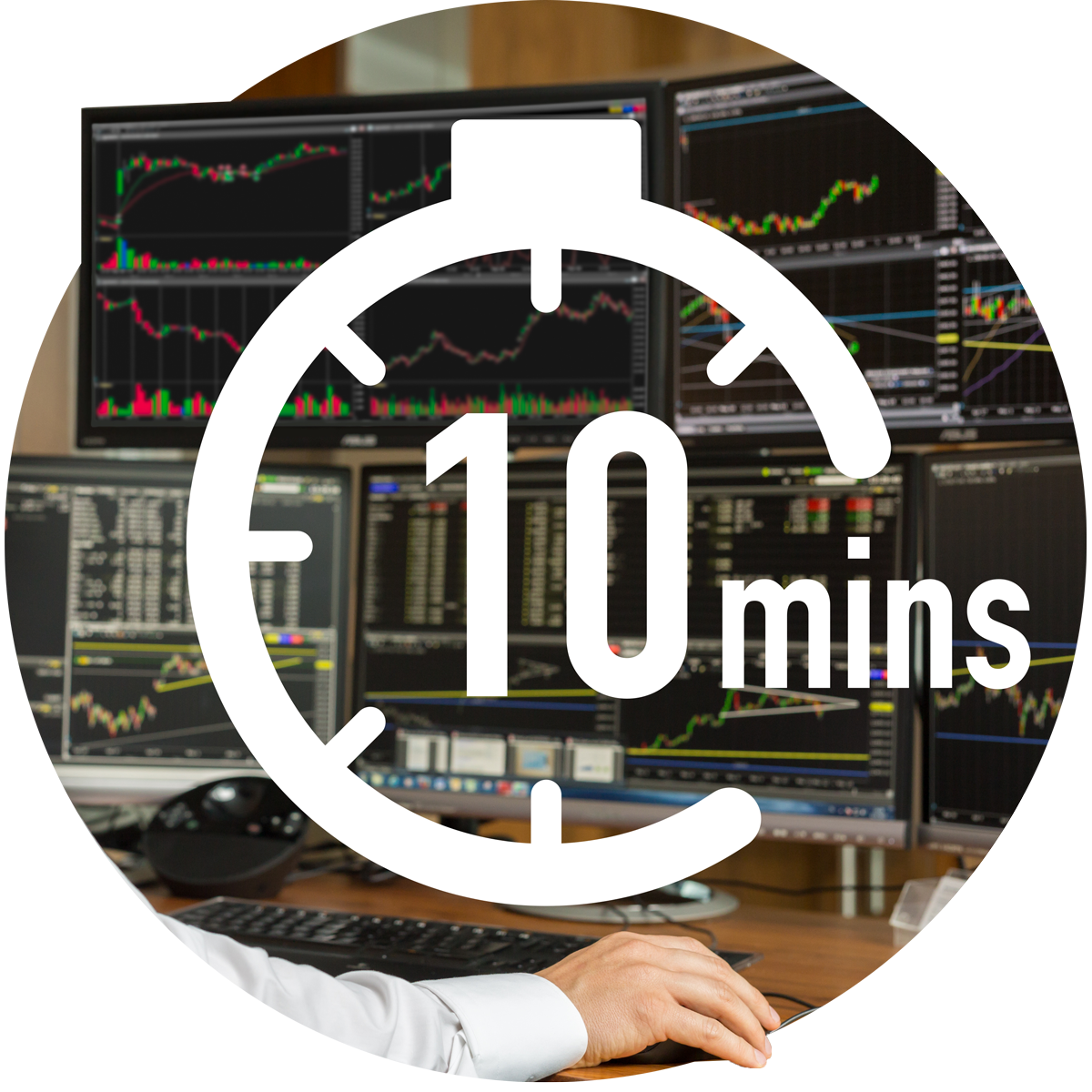 Introducing alpha-generating trader workflows that can help save your buy-side desks ten minutes a trade.
What is interoperability?
Simply put, interoperability is the ability of different systems or applications to communicate with each other, exchange information, and then take action with that information.
Application overload is prevalent across the industry. According to Flextrade, some buy-side traders navigate eight-ten screens throughout the day and log-in to twenty-seven different applications. Finsemble is a no/low code interoperability (or Smart Desktop) platform that allows these disparate application to sync, link, and share information, even if they weren't originally designed to. Smart, automated workflows improve efficiency, reduce error rates, and allow users to focus on higher value tasks.
In this article in Best Execution published results from a recent OMS/EMS survey. "The DESK's research into buy-side execution and order management systems (O/EMS) for fixed income markets has found evidence that more integrated trading workflows are the priority for traders."
"Interoperability is now becoming not just nice to have, but a must have. "
—Mike King, Global Business Head for Bloomberg App Portal
(Source: A-Team Insights)
Ask yourself: if you could automate the rote tasks your traders or portfolio managers engage with, what value would this bring your firm? That question (and the answer) is at the heart of interoperability.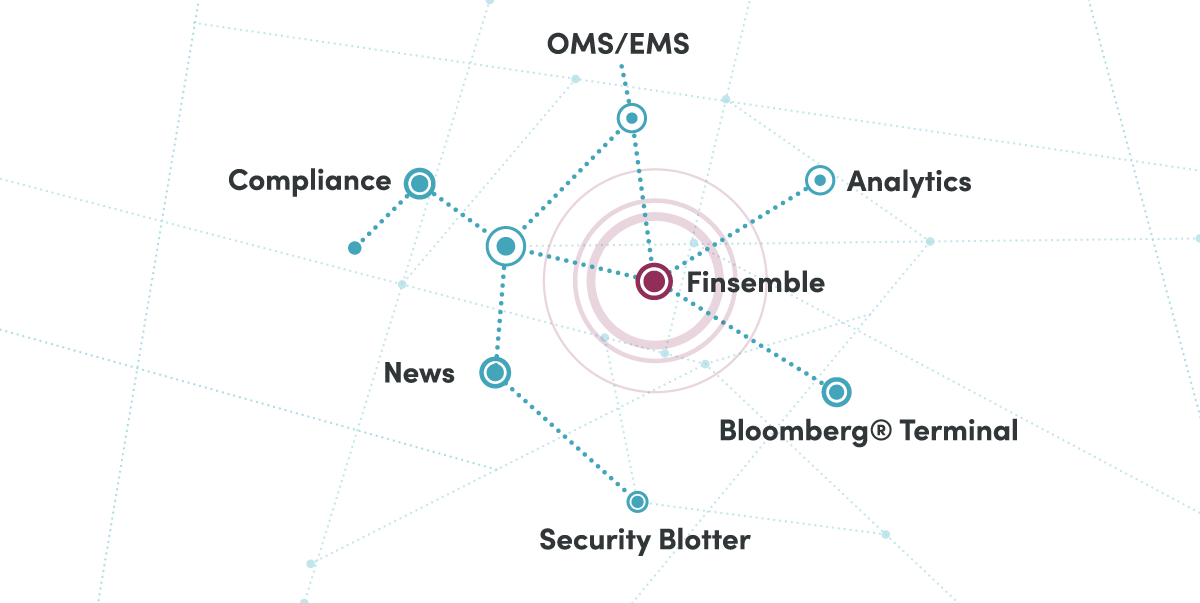 A Smart Desktop fosters interoperability between the tools traders use every day.
Generate alpha through custom workflows
Buy-side workflows vary greatly from firm to firm, wIth layers of technology—at times proprietary—that do not connect. Disparate reporting systems and metrics, chat, internal risk tools, and a high dependency on virtual applications create complications.
Additionally, multitudes of systems such as OMS, PMS (and sometimes multiple EMS platforms) all launch separately and do not sync, with limited app-app communication. Errors from rekeying and copy-paste are particularly devastating due to increased regulatory scrutiny and volatility.
Portfolio managers and traders are working on behalf of clients who in turn have their own systems, along with interactions with multiple sell-side firms daily. The majority of applications and software solutions used by the buy-side are off-the-shelf vendor applications that (historically) don't speak to each other.
The solution? Connect all of these systems in intelligent ways so that multi-step processes are streamlined, and context is shared across all of the applications on screen at once. Integrated applications and context sharing make seamless data-sharing easy. Finsemble clients have successfully automated internal processes such as RFQ response and other mission-critical workflow initiatives. Automated workflows allow context to be automatically passed to the order management system (OMS), market data terminal, customer relationship management (CRM), etc. See more on our workflows overview page.
Charles River Development
, a State Street Company, announced a collaboration with Finsemble to streamline integration of third-party applications into the Charles River Investment Management Solution.
Read press release here
.
Fast-track to interoperability
Finsemble is the industry's first no-code smart desktop platform. In under an hour, clients can assemble any type of application into shareable, publishable workspaces. This means your Innovation Officer, Head of Product, or any business user can build a smart desktop without developer support.
Point and click Smart Desktop Designer GUI expedites application integration, UX design, and security
Assemble, customize and deploy into production a complete smart desktop in under an hour
FDC3-enabled applications can interoperate out-of-the-box
Save development resources and see faster time to market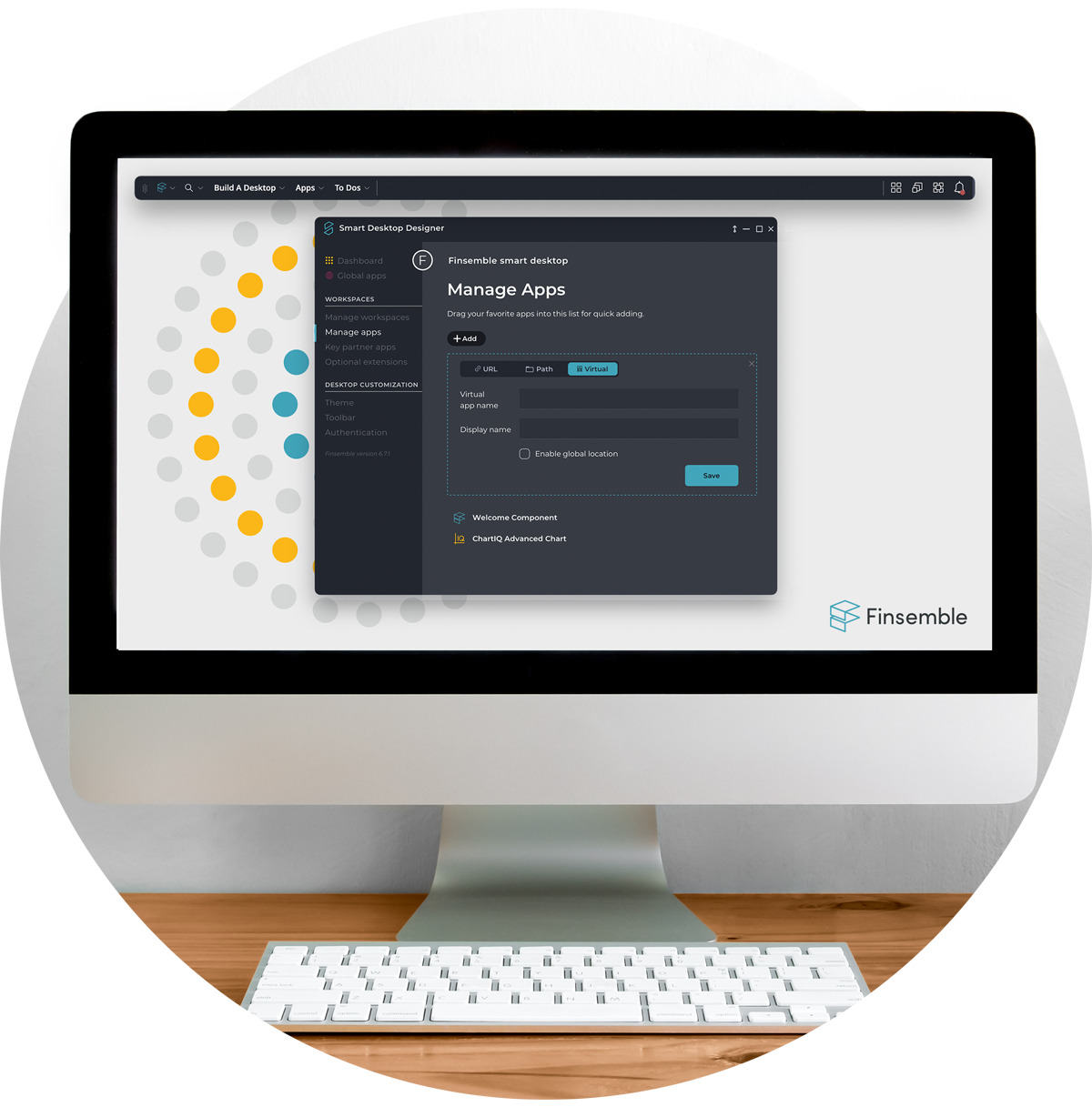 Next level collaboration: Buy-side vendors and FDC3
FDC3 standards define a common language and API that applications can use to easily communicate with each other. By using this common language, FDC3-enabled applications become part of the streamlined workflows at the heart of interoperability.
Slowly but surely, application providers are getting involved in interoperability. Understanding that connectivity is imperative to buy-side workflows, they want to be key players. More and more vendors are prioritizing FDC3 to make this happen. Learn how FDC3 has crossed the chasm.
Meeting FDC3 compliance means these buy-side vendor applications arrive primed and ready for interoperability out-of-the-box (note: FDC3-compliant applications can interoperate immediately once installed on a desktop equipped with an FDC3 Desktop Agent, such as Finsemble).
Some examples include Charles River, State Street, and Broadbridge. Refinitiv, FactSet and Eze are all in various stages of adoption, while Bloomberg allows interoperability using Terminal Connect. Additionally, a collaboration between Finsemble and Symphony is solving for the use case of firm-firm and person-to-person communication.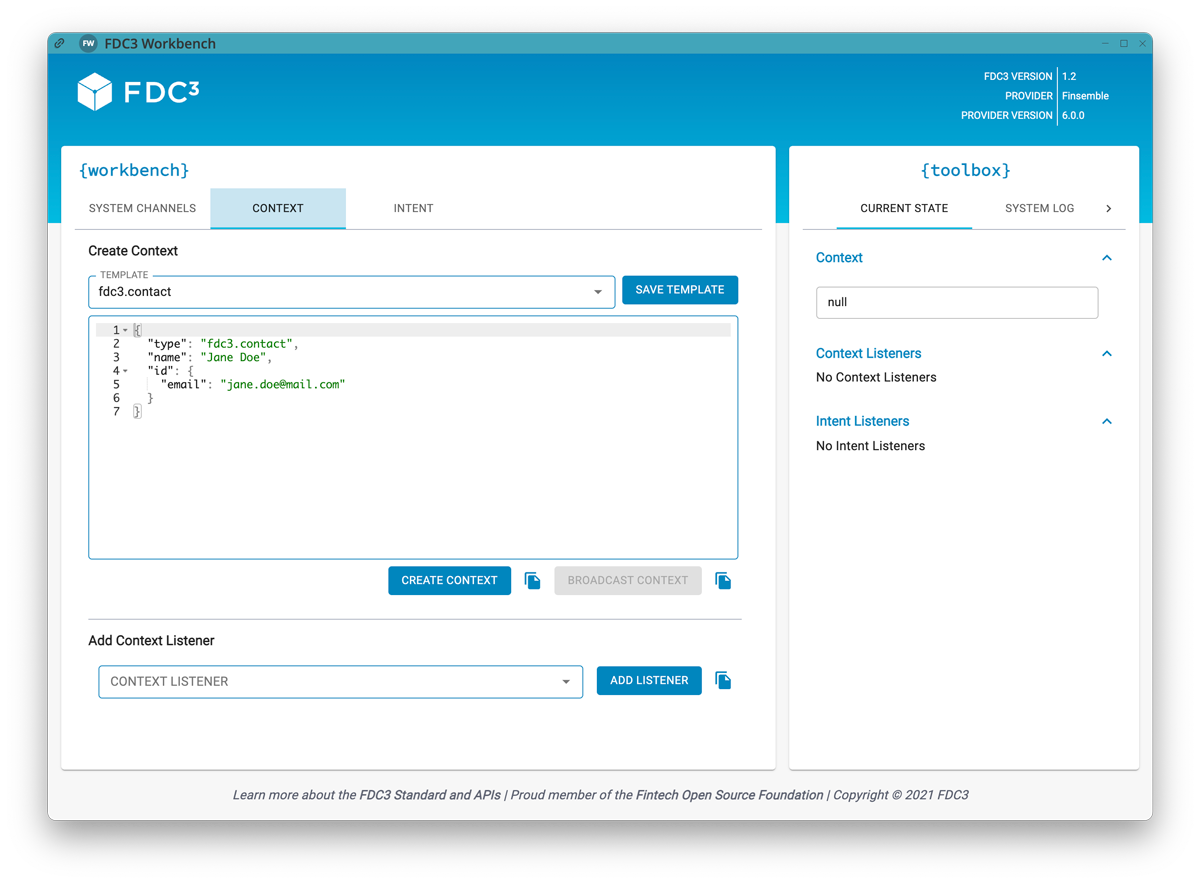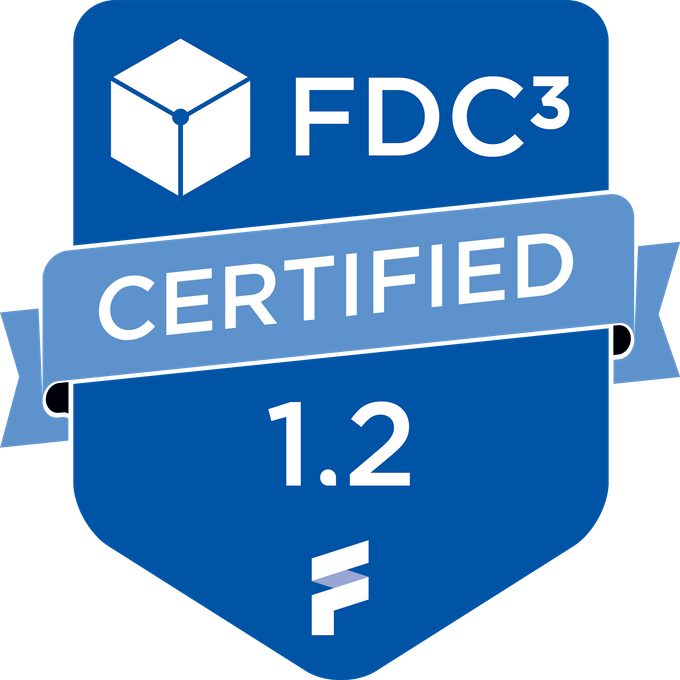 The more vendors that come equipped with FDC3, the better it is for buy-sides. Our FDC3 Workbench makes it easy for vendors to adopt and test against FDC3 standards. If you're a buy-side looking for interoperability, encouraging your vendor application providers to become FDC3 compliant is in your best interest. Our partner Aiera used the FDC3 Workbench to enable their application (in under an hour!).
Learn more about our FDC3 for vendors program
Real world use case: Pictet Asset Management
Pictet Asset Management (an independently owned asset management company with assets under management of over 200 billion) created customized workflows by using the Finsemble smart desktop platform to enable vendor and in-house application interoperability.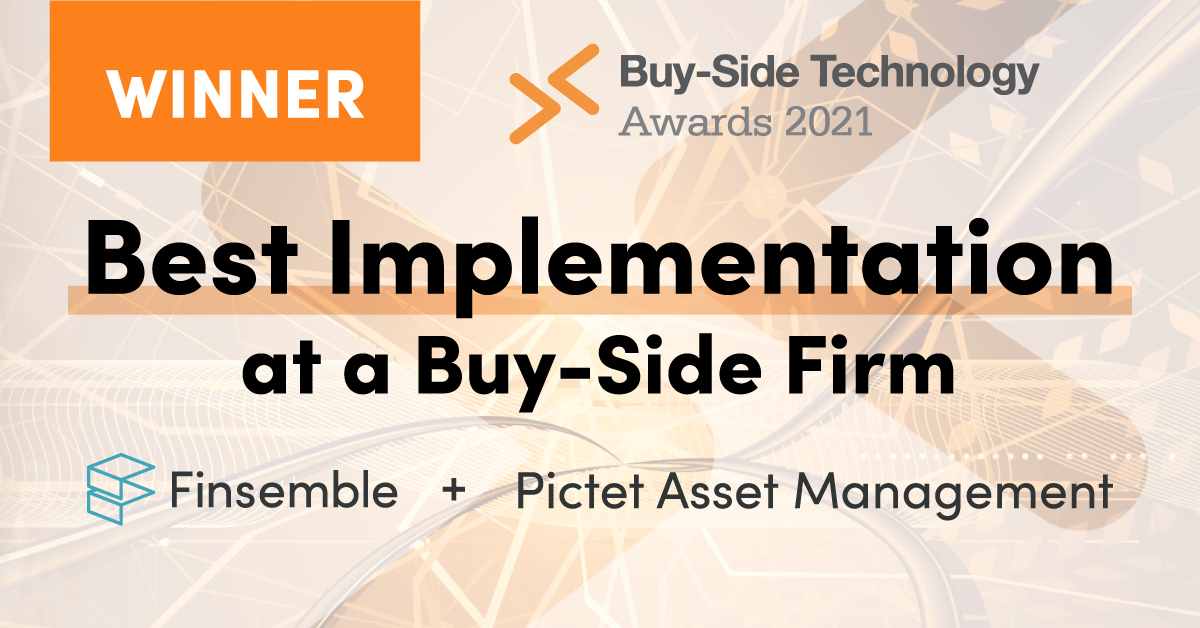 Pictet AM has created some standard workflows in trading, like FIX and communication between applications that have been fine-tuned and automated. But when it came to cross-application workflows things got more complicated. Trying to share information from different types of applications—in-house, third-party, native etc.— was the challenge.
The results were astounding. In some cases up to ten minutes a trade has been saved.
See Pictet's case study and workflows
"The collaboration with Finsemble underscores our commitment to expanding Charles River's partner ecosystem, providing customers with access to a growing community of third party analytics, data and applications providers."
—Michael Beattie, Director of Product Strategy at Charles River
Time for bigger and better things
Automating rote tasks allows your analysts, dealers or portfolio managers to "do bigger and better things." If workers don't have to spend their time manually typing everything, they can study the market, talk to their portfolio manager, research, be creative—any of the things they wish they had time for at the end of the day.
I said automate everything. From a trading perspective, automate everything. However, while doing so, keep people first.

— Carl James , Global Head of Fixed Income Trading, Pictet Asset Management

"Pictet Asset Management is an independent asset manager, overseeing more than CHF206bn for our clients across a range of equity, fixed income, multi asset and alternative strategies. PAM provides specialist investment services through segregated accounts and investment funds to some of the world's largest pension funds, financial institutions, sovereign wealth funds, intermediaries and their clients."
Ask yourself, what are the slowest, most rote tasks your workers engage in? What would they be able to focus on if they could automate those tasks? What can they do with an extra ten minutes each hour, or eighty minutes a day?
It's your traders, your tools, and your workflows. An interoperability buy-side platform like Finsemble allows you to build-out a personalized chain of events leading up to each action. It's an important refrain we share: Build workflows, not applications. We are here to help you identify what those workflows might be.
Partnerships to bolster buy-side interoperability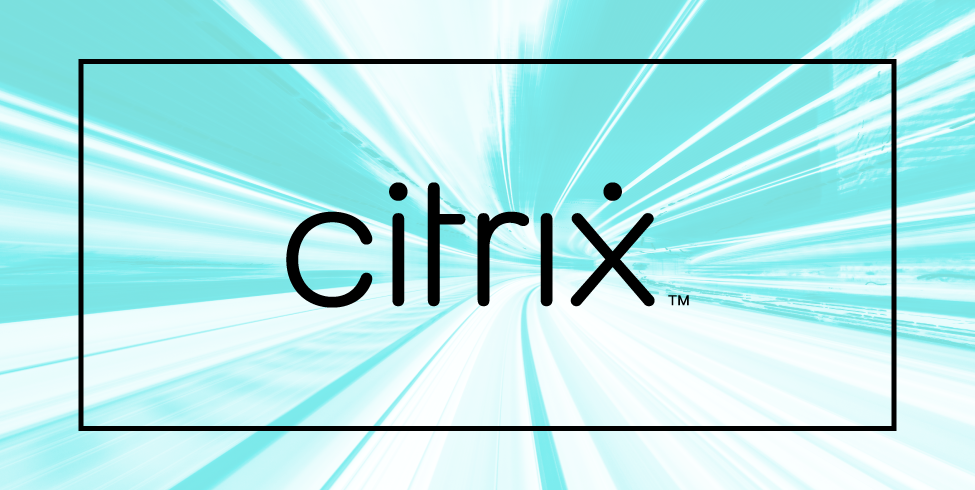 Citrix Support
Support for virtual applications is especially relevant to the buy-side, who depend on them for critical pieces of their workflow, such as their OMS, EMS and PMS. These applications are often delivered by vendors via Citrix. Finsemble now supports Citrix-hosted apps.
"Across the buy-side we are seeing interoperability evolve from a nice-to-have to imperative," says Dan Schleifer, CEO and co-founder of Finsemble. "When buy-side desks see their trading pain points solved by workflow automation, they need all their applications included, whether run locally or delivered via Citrix."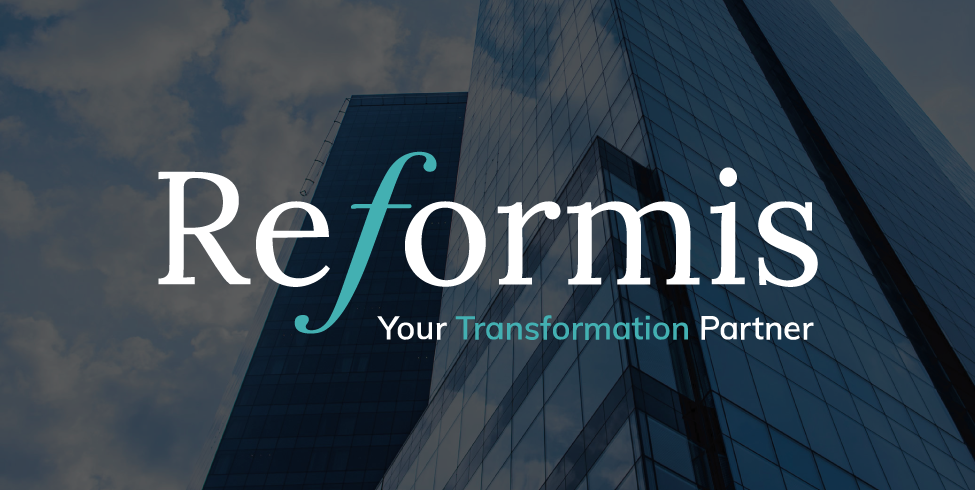 Reformis Partnership
We have forged a strategic partnership with buy-side technology consultants Reformis to help bring desktop interoperability to investment management firms by leveraging Finsemble. Under the new partnership, Reformis will assist buy-side firms with the implementation of desktop interoperability, using Finsemble as the underlying infrastructure. Reformis specializes in projects across enterprise data management and the implementation of portfolio and order management system (PMS and OMS) solutions at investment management firms.
Interoperability, simplified

Finsemble is a no/low code Smart Desktop platform that allows any type of application to sync, link, and share information, even if they weren't originally designed to. This is known as "desktop interoperability" in the industry, and Finsemble does it best. Smart, automated workflows improve efficiency, reduce error rates, and allow users to focus on higher value tasks.