Instantly sync your virtually-hosted Citrix apps with other applications on your desktop.
In January we announced our new Citrix/virtual application support. This functionality fosters interoperability between any desktop applications—regardless of where the app is hosted. With the release of Finsemble 7.0, Citrix support is now included in the plug-and-play Finsemble Smart Desktop Designer.
See press release where we introduce the World's First No-Code Desktop Interoperability Platform.
Many of our clients, particularly those on the buy-side, have been frustrated that remotely-hosted applications cannot connect to and interoperate with the rest of a smart desktop. This has been particularly problematic as virtual applications (often delivered by vendors via Citrix) are often tools that serve as the cornerstone of their workflow such as their OMS, EMS and PMS.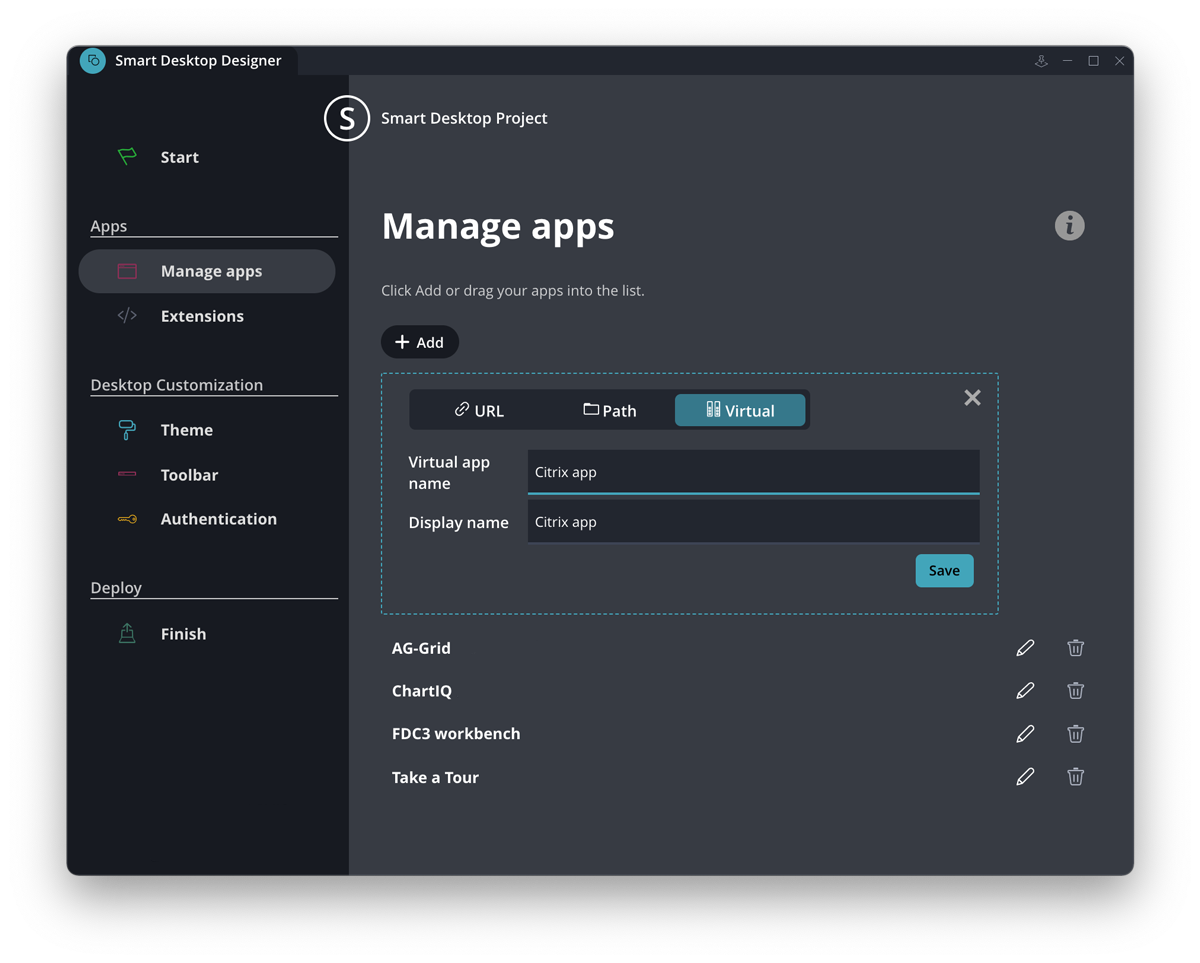 Managing your Citrix app in the Smart Desktop Designer is easy.
Integrating these applications into workflows that also include their in-house applications truly brings the smart desktop to a new level. Users can now build an interconnected workspace in under an hour—and Citrix applications can be configured without any additional hardware and with minimal setup.
"When buy-side desks see the opportunity to gain alpha by simply improving workflow, then interoperability evolves from a nice-to-have to imperative," says Dan Schleifer, Finsemble CEO. "Clearly, an integrated desktop requires all of their applications to be included, whether run locally or delivered via Citrix."
With Finsemble, any type of application—legacy, new, in-house or third-party—can share data and connect for seamless workflows. It's important for the applications to have a similar look and feel as users snap and dock their apps to build a cohesive workspace. With Finsemble 7.0, virtual apps are now launched through Finsemble, so they share the same overall launching and usability experience as other locally hosted apps. There's no need to go through Citrix workspace or a separate launcher to access the apps. Users can consolidate all app launching through Finsemble to bring applications of any kind together.
The no/low code SDD makes this "bringing together" of applications even simpler. Clients will benefit from this low-code approach in a number of ways.
Desktop developers can assemble a workspace (in under an hour) to accelerate their new desktop implementation
There's no need to leave any app behind! Desktop developers can include their Citrix applications in their Finsemble evaluation
As another bonus, Citrix application developers can leverage the SDD to build and test interoperability within their virtual apps
Virtual applications have traditionally been isolated and unable to communicate with other applications running locally on the users' desktops. Until now, the solutions to include these applications have relied on complex layers of infrastructure, including additional servers or firewall configuration, adding potential points of failure. Within Finsemble, if a user is able to connect to the Citrix-delivered app, then the virtual applications can participate in the smart desktop. The added bonus of a plug-and-play approach makes this process even easier.
For more information on our Smart Desktop Designer, visit our documentation page.
Next steps for buy-side interoperability
Interoperability is moving from nice-to-have to imperative for buy-side firms. Alpha is generated at every step in the investment process. Technology has facilitated many gains, and interoperability is the next leap forward.
As we meet with more and more buy-side clients, we are learning more about the unique and customized ways workflow automation will work for them, from expediting the RFQ process to automating the FX Swap process.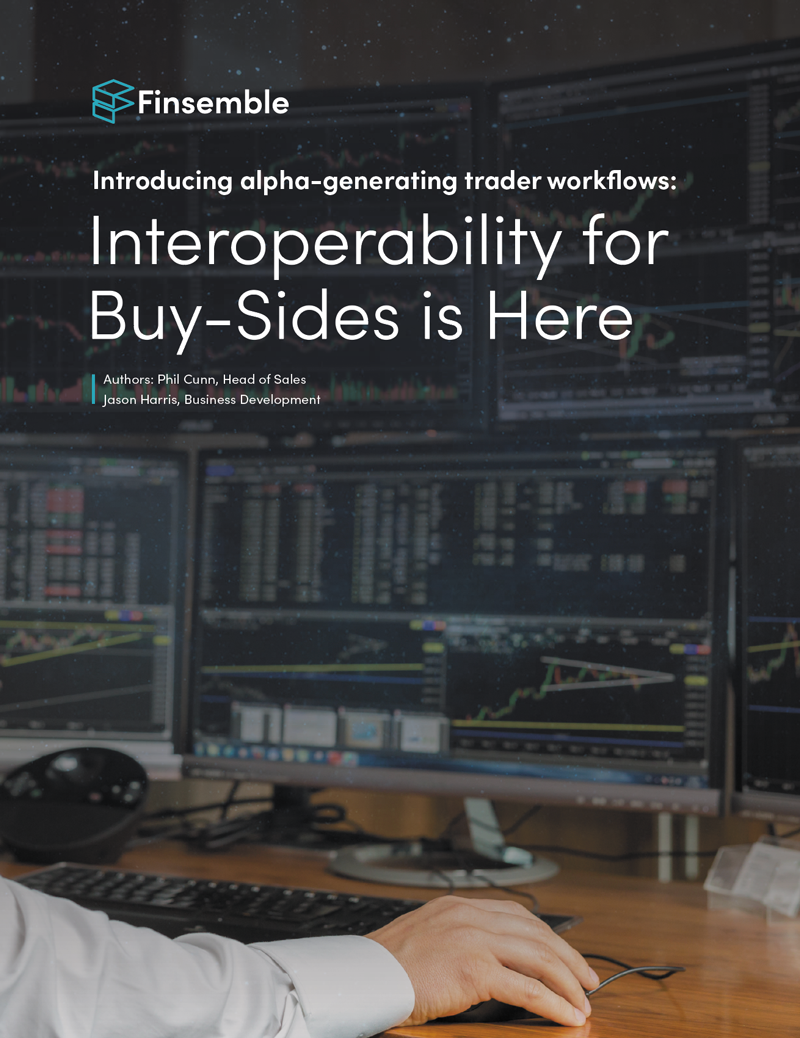 In this whitepaper, we discuss why interoperability is starting to take off for buy-sides, why the project is well worth the investment, and what we predict the future holds for buy-side interoperability. We'll also showcase a few real-world workflow examples, so you can start to envision this new era of portfolio manager, compliance professional, and trader workflow.
Download buy-side whitepaper