Connect your applications
in under an hour.
No developers needed.
For faster time to market, Finsemble offers a GUI known as the Smart Desktop Designer (SDD) used to assemble web, native, and third-party applications into integrated workspaces. The SDD also includes tools for styling, theming, menu organization, and single sign-on authentication. In under an hour, a customized smart desktop can be deployed to end users, containing essential applications (OMS, blotter, charts, news, analytics), workspace management, security controls, and branding.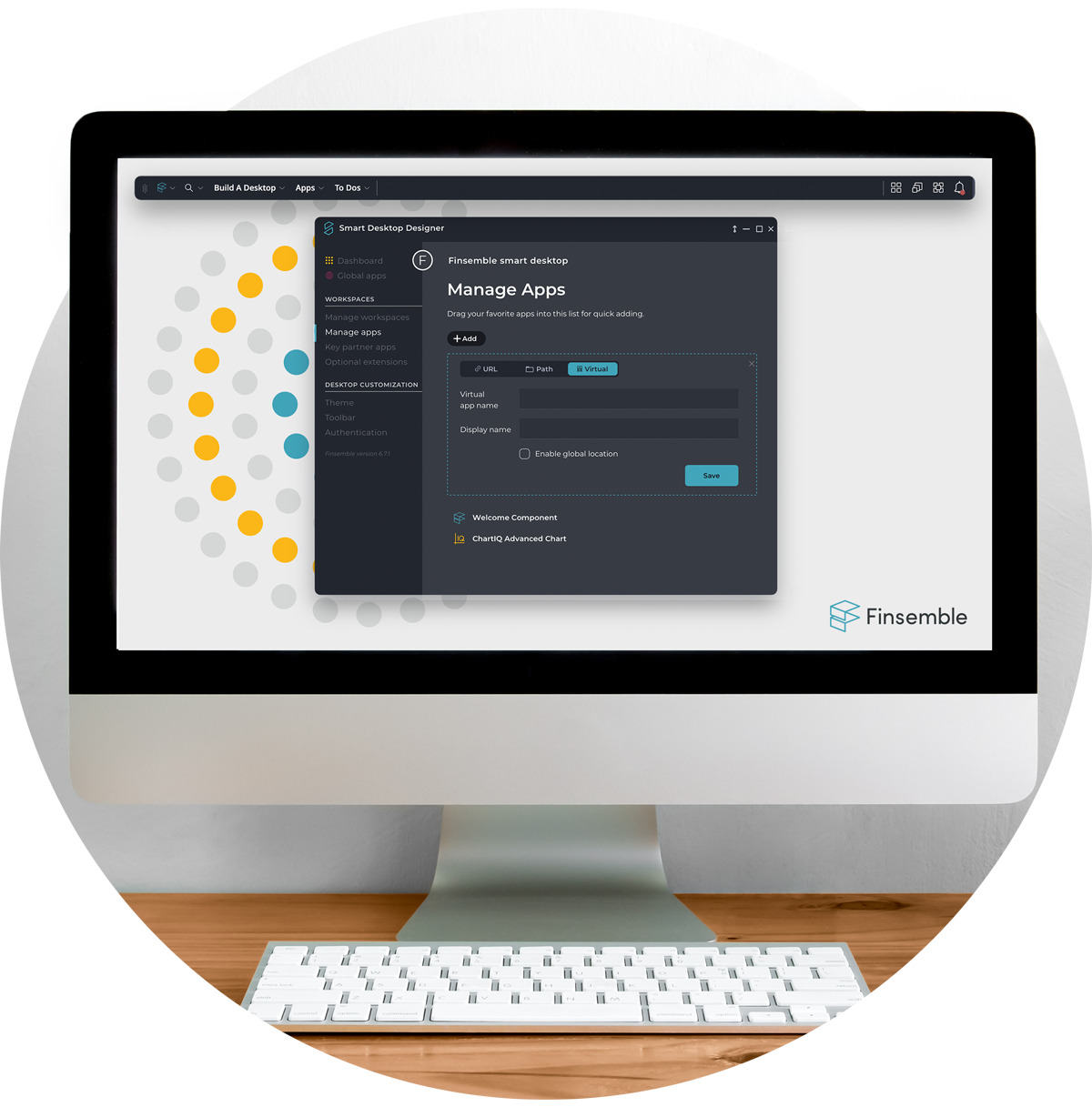 The quickest route to your Smart Desktop starts here
There is no other option on the market that allows you to deploy a production-ready Smart Desktop faster than Finsemble. In this video demo, see how easy it is to select and connect the applications you want to participate in your automated workflows.
Point and click GUI expedites application integration, UX design, and security
Assemble, customize and deploy into production a complete Smart Desktop in under an hour
FDC3-enabled applications can interoperate out-of-the-box
A Smart Desktop
for the no-code revolution
With the rise of low/no-code application development—and a Gartner forecast of a 23% growth in low-code development—the logical next step was for a Smart Desktop platform to follow suit. Finsemble was the first to do so. No-code not only saves time at project outset by greatly reducing the evaluation period, but also allows developers to focus on higher value workflows down the road. Read press release →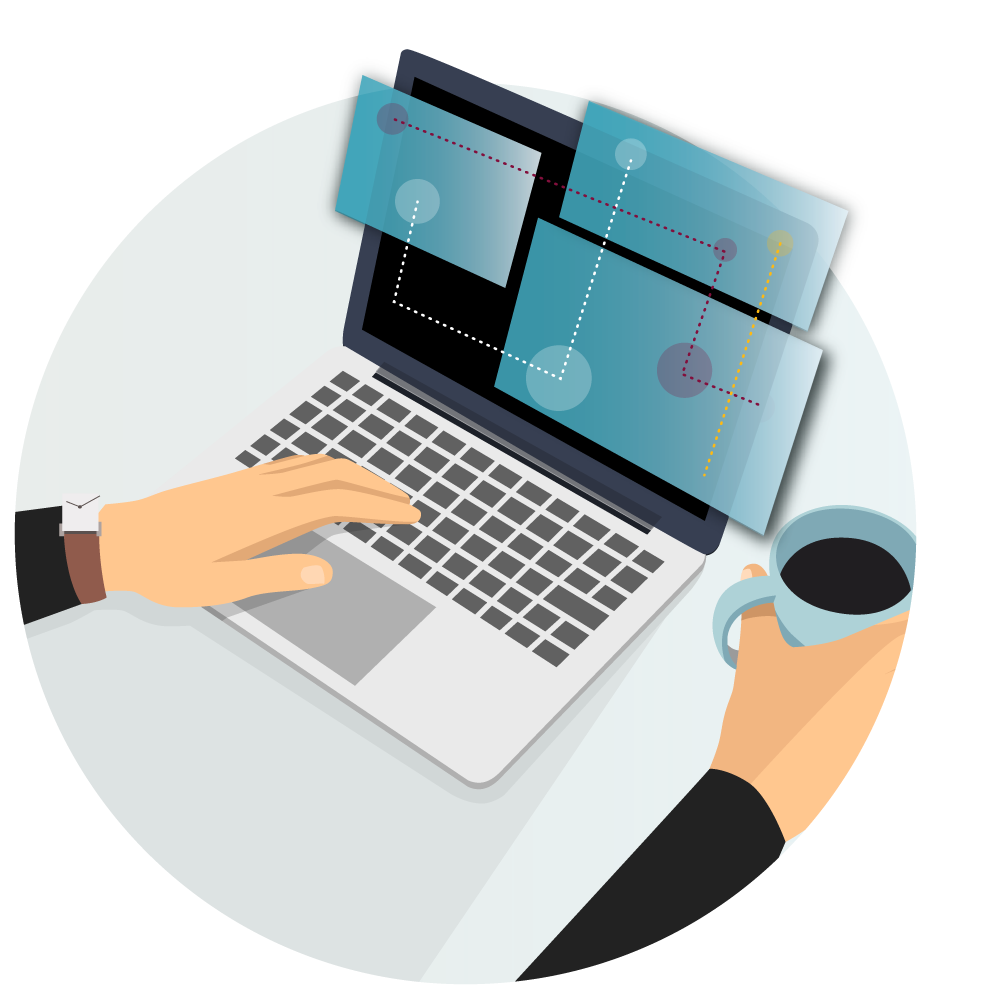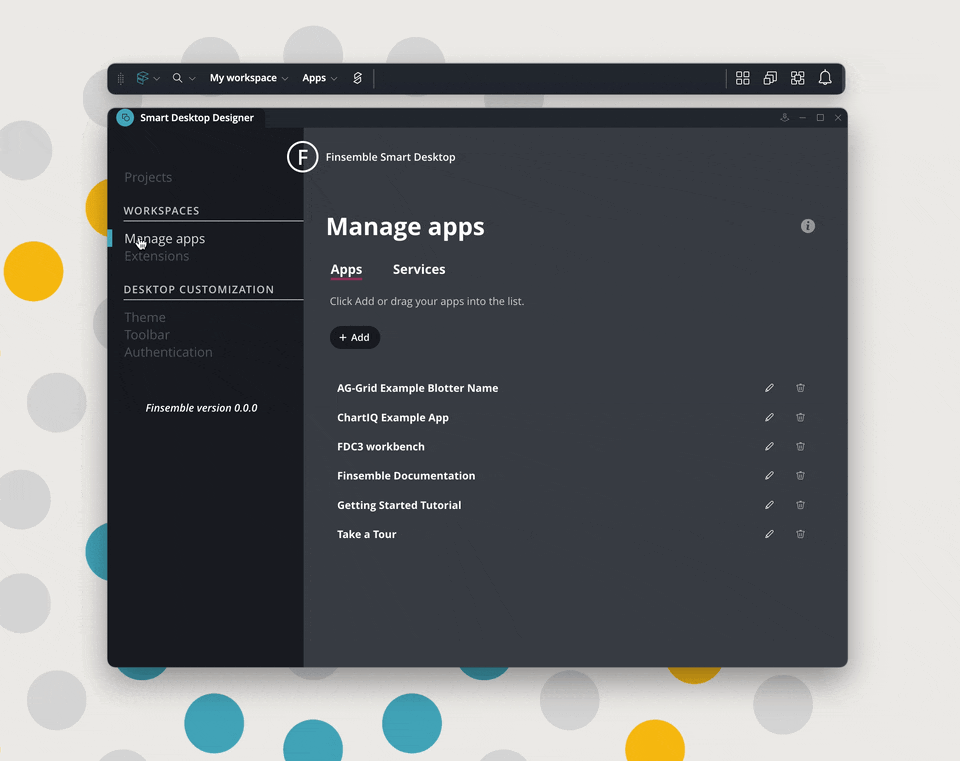 A simple drop-down lets you select what applications you'd like to include in your workflow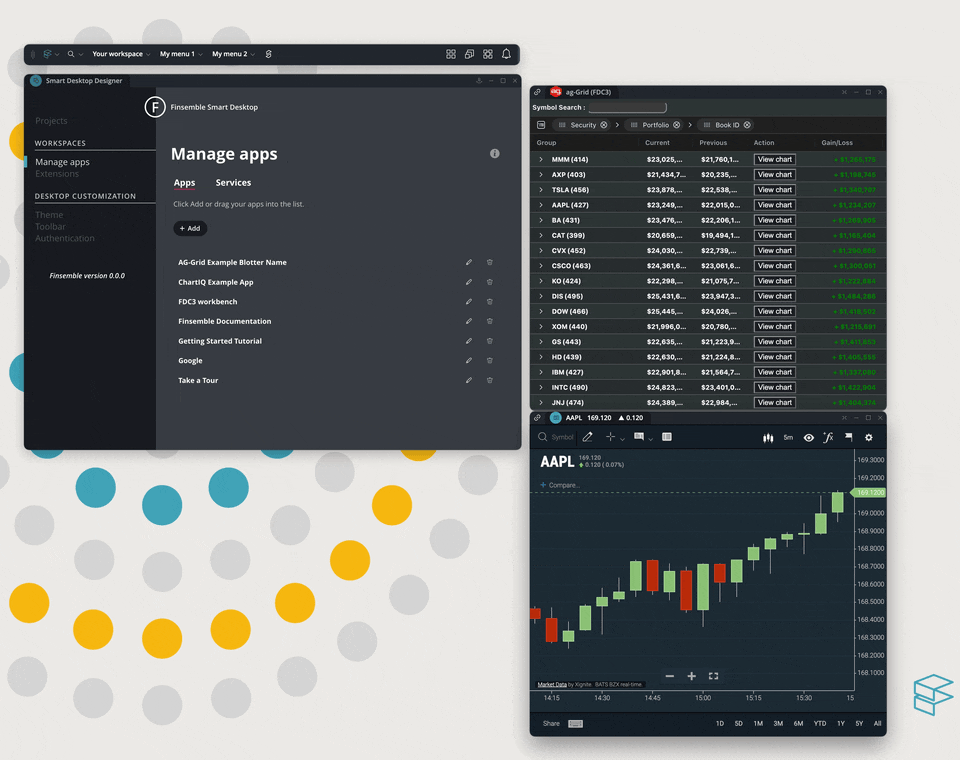 FDC3-enabled applications can interoperate out-of-the-box (check out the open-source FDC3 Workbench for help)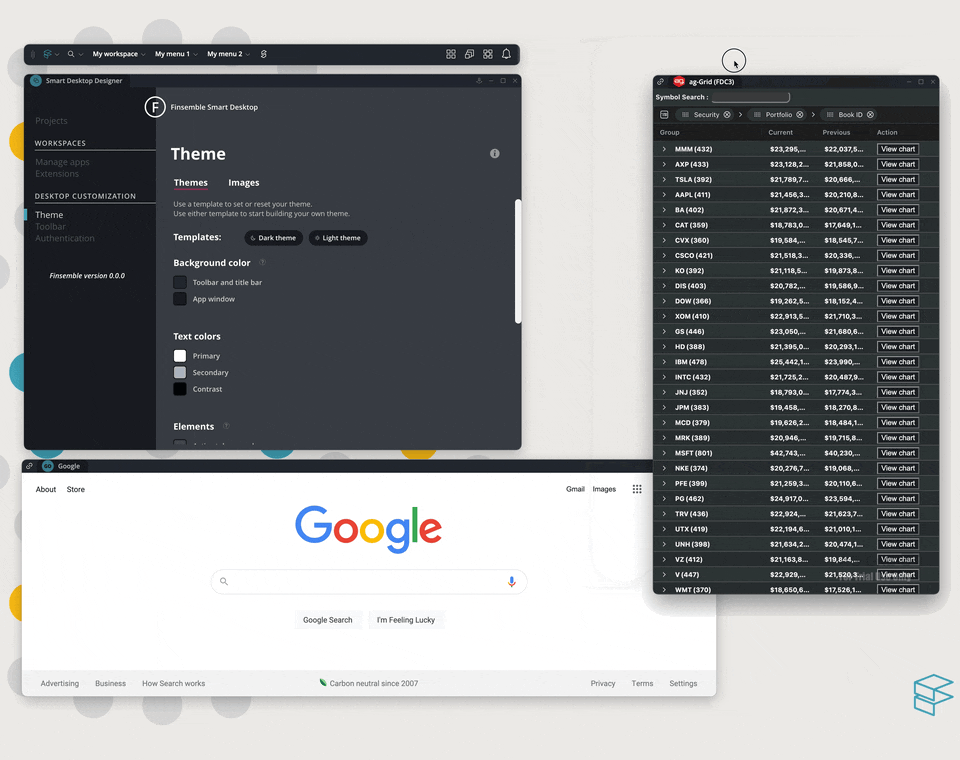 Save, share and rehydrate your workspaces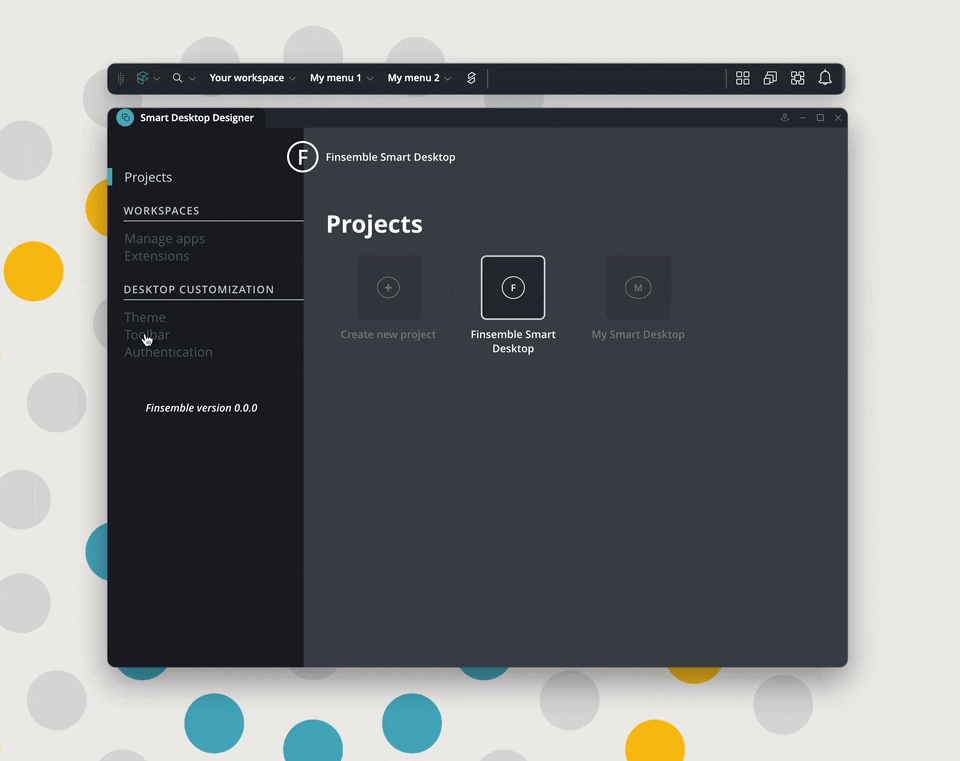 GUI allows you to select how you want your Smart Desktop UI to look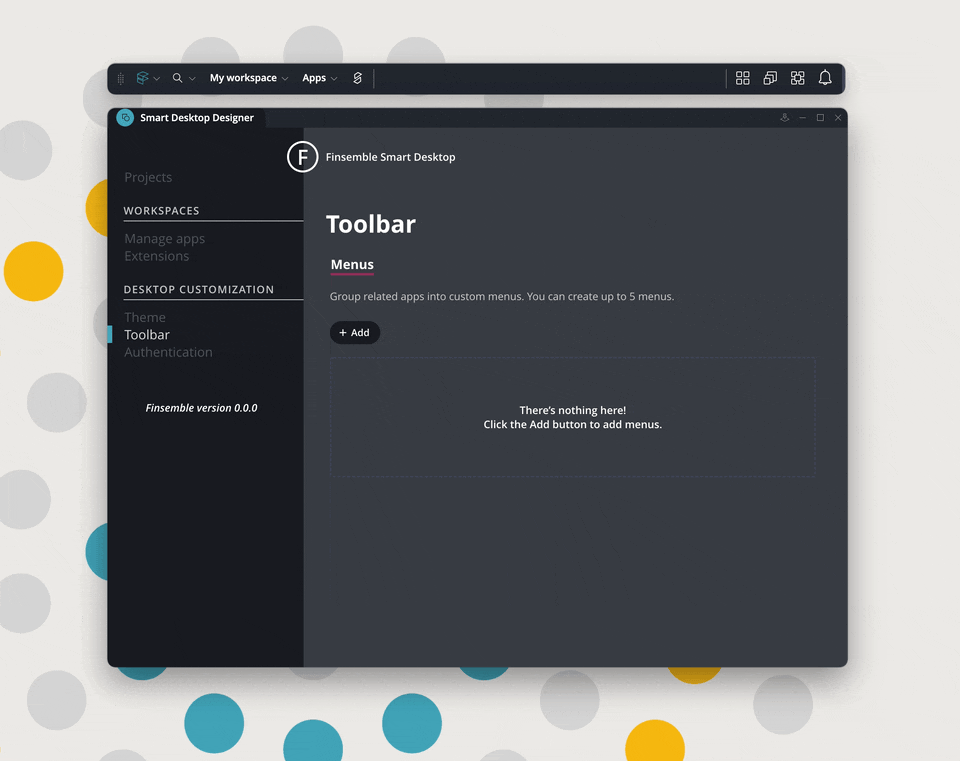 Group apps into custom menus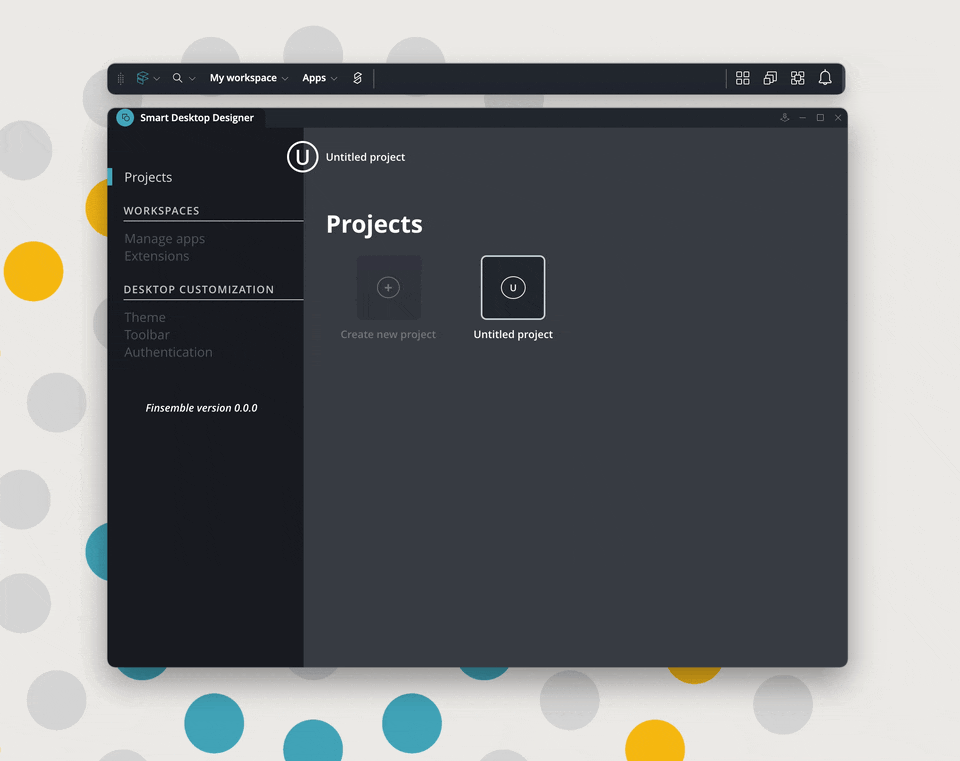 Work on several Smart Desktop projects—all with their own workspaces, menus, and apps
A faster evaluation period
for faster time to market
Evaluation periods for interoperability platforms can take months. Now in just 48 hours you can evaluate a fully-baked Smart Desktop—including interoperability—without the need to resource developers.​ After the evaluation, you will have a production-ready smart desktop ready to share with stakeholders.
Evaluate Finsemble in two days
For out-of-the-box interoperability, you need FDC3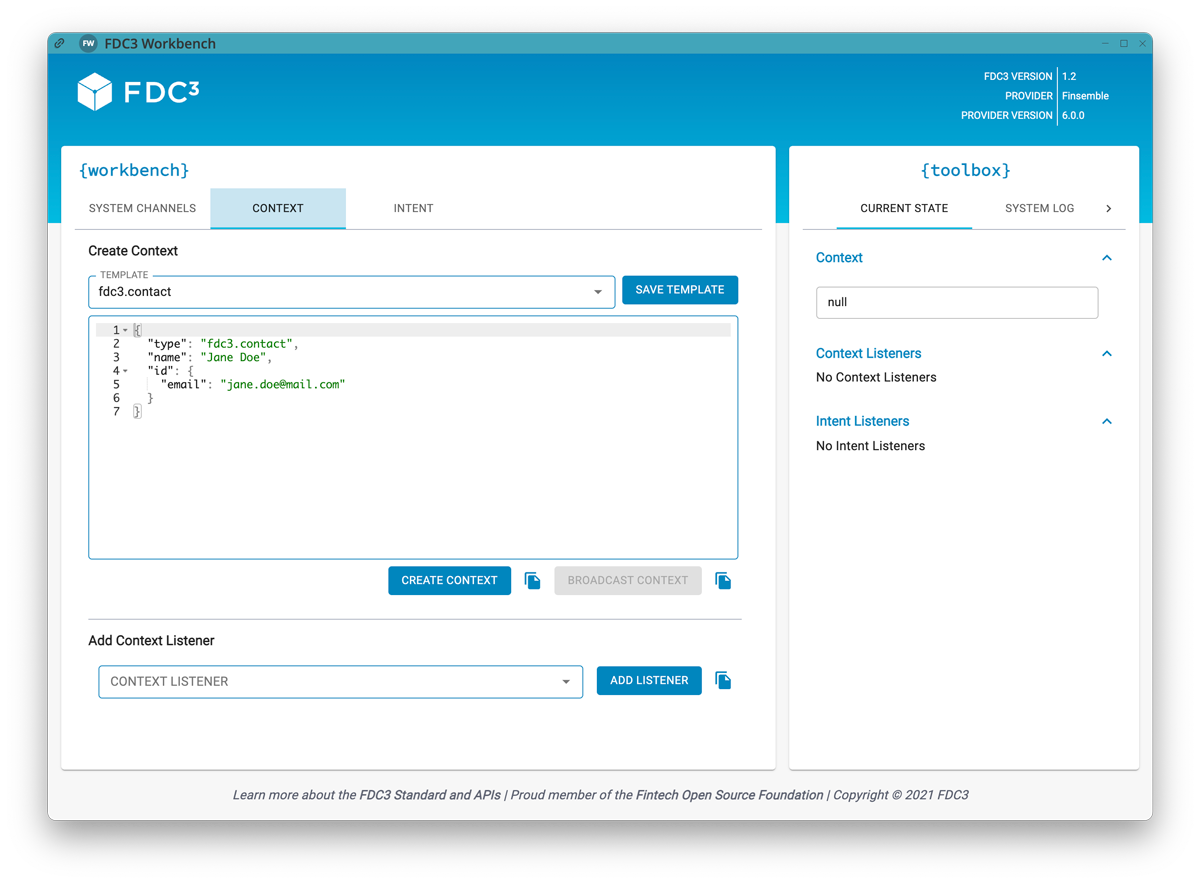 At the heart of interoperability in finance are FDC3 standards—a common language and API that applications can use to communicate with each other. FDC3-compliant applications can immediately connect once installed on an FDC3 desktop agent, such as Finsemble.
If your in-house apps aren't FDC3 enabled, don't fret. We've contributed an open-source solution to FINOS so developers can test and implement FDC3 compatibility.
Learn more about the FDC3 workbench

Aiera and Finsemble
Aiera's events-monitoring platform is incredibly valuable on its own, but the offering is even better when it's an integral part of meaningful workflows. Aiera has fully implemented FDC3 and validated compatibility with Finsemble to ensure their components are plug-and-play for their end users. Read press release →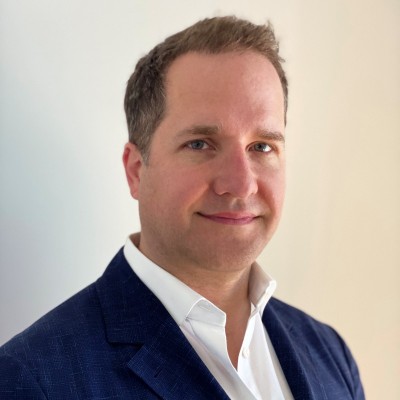 "With the FDC3 Workbench and the Finsemble Smart Desktop Designer we had our application FDC3-compliant in under an hour. Immediately, our application and components can share data and context with any other application on our clients' desktops."
—Ken Sena, Aiera CEO & Co-founder