On-Demand Webinars
Trends in Capital Markets Technology
The financial industry must embrace digital transformation initiatives to increase efficiencies, retain end-users and "wow" their clients. Our webinars invite you to gain expert insights into technology trends that are evolving capital markets technology—from desktop interoperability to data visualization for FICC.
Interoperability in Action:


A showcase of FDC3 workflows across the investment management process

As more and more firms adopt interoperability using FDC3, we're seeing the benefits affecting stakeholders at every level: from portfolio managers to traders, wealth managers to compliance officers. In this webinar, we bring together three industry experts who represent different stages of the investment management process to showcase what they've achieved with interoperability.

Watch to see how:
FactSet improved workflow for analysts, portfolio managers, and wealth managers
FlexTrade now offers interop for execution management and trader workflow
Synechron brings interoperability to life across the front, middle and back office
Interoperability is all encompassing, and truly is for everyone. Learn how you can bring FDC3-workflows to your firm and see the benefits immediately.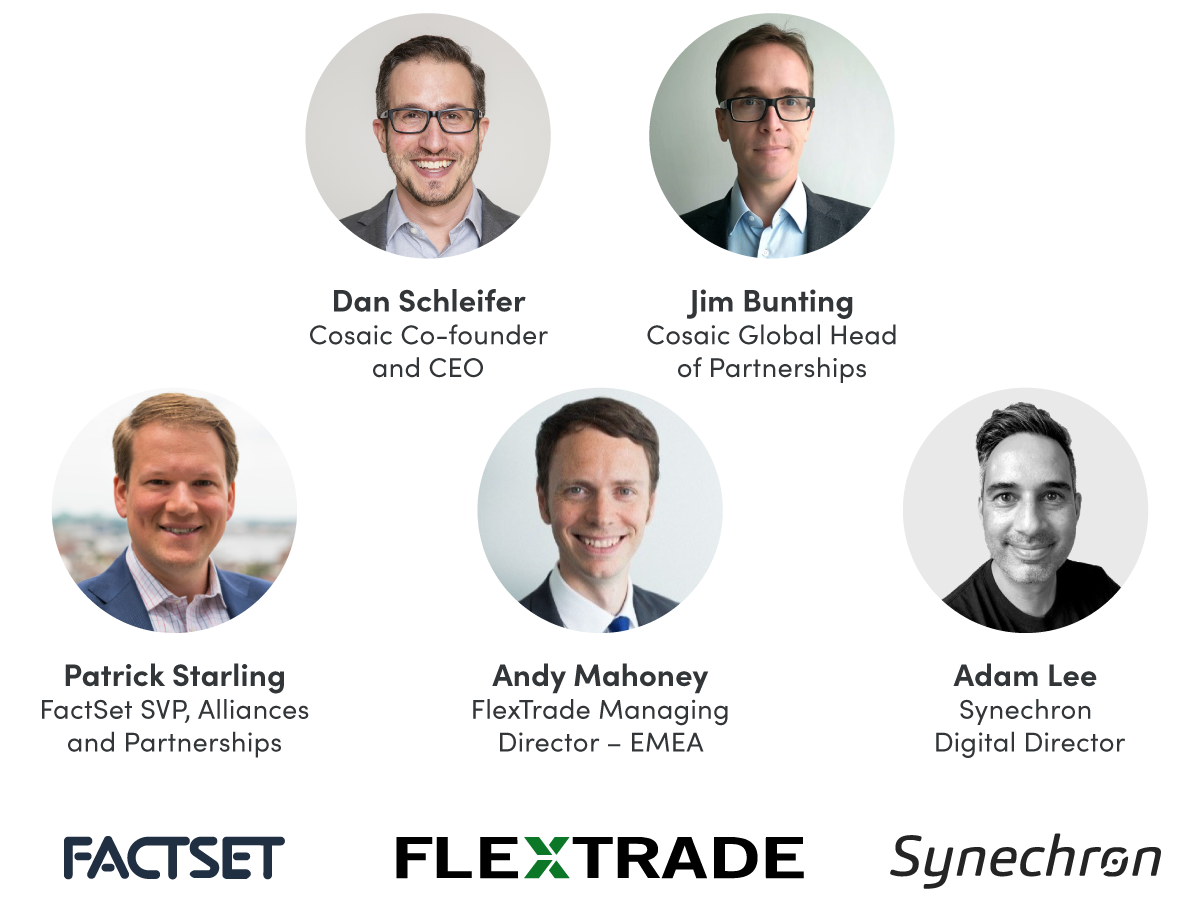 Fast Track to Interoperability with the Finsemble SDD and FDC3 Workbench
September 29, 2022
In this webinar, see a Smart Desktop built live with no code, learn more about the necessity of FDC3 standards, and see Aiera discuss (and demo) interoperability with FDC3.
Presenters: Dan Schleifer, Cosaic/Finsemble CEO; Sarah Stone, VP of Finsemble Product; Elliot Nash, Aiera SVP of Product Development
Next generation workflow: The power (and necessity) of embracing FDC3 standards.
March 25, 2021
Behind the buzz of interoperability is FDC3 — standards that allow financial applications to communicate with each other using a universal language. FDC3 enables faster decision-making, improves productivity, and streamlines workflows through interoperability of desktop applications. In this roundtable discussion, FDC3 experts and industry leaders met to discuss the origins of FDC3, why it's so important, and what they predict the future will hold for businesses adhering to FDC3 standards.
Introducing the world's first no-code smart desktop
August 25, 2021
In this webinar, CEO Dan Schleifer builds a smart desktop in under an hour with the Finsemble Smart Desktop Designer. Desktop interoperability is an industry game changer, but until now it's required a large investment in IT resources to build and deploy. Finsemble has changed the game by offering the industry's first no-code smart desktop platform.
How Pictet Asset Management trading desk created workflow automation for the desk
January 14, 2021
In this webinar, join Cosaic CEO Dan Schleifer and special guest Carl James—Global Head of Fixed Income Trading at Pictet Asset Management—for a discussion around PAM's journey to interoperability. Learn the challenges PAM traders encountered, the solutions and the surprises, and how Finsemble has shaped a new way for PAM's traders, and fund managers, to work. Carl will be giving a demonstration of some of their workflows; to include Money Market, Credit and FX.
Build a Smart Desktop, Faster
October 8, 2020
Finsemble 5.0 introduces a suite of features and improvements empowering development teams to move faster while continuing to enhance the end-user experience. Watch to learn why 5.0 is our most maker-centric release to date.
Finsemble 4.3: FDC3 Support Made Easy
June 25, 2020
As smart desktop providers embrace new FDC3 standards, application interoperability is entering a watershed moment. With Finsemble 4.3, it's now possible to leverage the latest FDC3 universal standards in your smart desktop project. Join us to to see demos of Finsemble 4.3 FDC3 1.1 support (such as intent, context and app directory specifications), advanced notifications and many developer enhancements.
Integrated Workflows: From Nice-to-Have to Business Continuity Imperative.
June 9, 2020
Join industry experts to discuss how banks and technology firms are collaborating on next-generation digital initiatives to handle global work-from-home orders. Speakers include: Citi Ventures, Bloomberg, Illuminate Financial Management, ipushpull, and Finsemble