Accessibility, one step at a time.
Global accessibility is imperative for users who need to access our charting solutions and smart desktop technology in different ways. Developing our software with WCAG standards in mind means our clients are able to provide accessibility features out-of-the-box for their own clients. Helping to make our clients' solutions more accessible for their clients is a cycle of inclusiveness that we're happy to be a part of.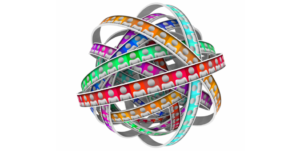 Over the past year, we've ramped up our accessibility initiatives both internally and as part of our product roadmaps, and now our solutions include pre-built accessibility features. This means our clients can begin to meet WCAG standards faster than they had previously planned. For Global Accessibility Awareness Day 2021, we'd like to share some of the progress we're making.
"Accessibility is becoming more and more important to our clients," says Eugene Sorenson, Cosaic CPO. "We're expediting their development cycles by providing out-of-the-box features for users of all abilities."
New tabbing and keyboard shortcuts set ChartIQ apart. 
Our world-renowned HTML5 stock charts are used on millions of desktops around the world by online brokerages, solutions providers, and both buy- and sell-side institutions. Users vary from light to expert power users, and use cases include all sectors of finance. We are now making our charts more accessible to those users with unique needs, and in turn providing our clients with an easy way to provide equal access to all.
Beginning with ChartIQ version 8.1, we've been focused on accessibility and have included features such as shortcuts and keyboard navigation. Our ChartIQ 8.3 release introduces even more keyboard accessibility with chart controls that can be navigated with tab or arrow keys. These controls include:
Symbol lookup
Comparison lookup
Chart legend (Plots control)
Study preferences dialog and delete (X) control (from the Studies menu)
Zoom and full screen controls, including continuous zoom
Range selector
Keyboard shortcuts have been added to show/hide add-ons, plug-ins, and chart features such as:
Table View (to support screen readers)
Outliers
Market Depth
Trade from Chart
Symbol Lookup
A complete list of keyboard shortcuts can be found in the Keyboard Shortcuts Legend, which can be opened from the Preferences menu or the keyboard shortcuts icon (at the bottom of the chart).
ChartIQ Accessibility Video Demo
Keyboard access for your smart desktop.
Finsemble is a smart desktop platform that allows applications of any type to share data. Users can simply select which applications they want to be part of their workspace. Our Finsemble 6.0 release keeps accessibility in mind, and the Finsemble toolbar is tab-navigable. Now, users are able to customize these workspaces and select applications using the keyboard alone. Additionally, Finsemble's latest prototype has received a score of A in Chrome Lighthouse.
Finsemble Accessibility Video Demo

Internal Accessibility Initiatives
We now have an expert on our team to help us with our accessibility training, education, and overall awareness. We're pleased to introduce our new Accessibility Tzar, Julianna Langston, who has become an integral part of Cosaic's accessibility journey and is passionate about equal access for all clients.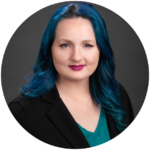 Julianna is a senior software developer with a passion for making digital content accessible. Before joining Cosaic, she spent 10 years in the field, most recently with a focus on leveraging sound to make data visualizations accessible to people with visual impairments. She holds several patents in this field of emerging technology. As Accessibility Tzar, she will continue to improve and evangelize product accessibility.
Julianna has already hosted company-wide accessibility training and attended Axe.con 2021, a conference focused on building, testing, and maintaining accessible digital experiences. Julianna's breadth of experience carries throughout the ChartIQ and Finsemble development teams, and we look forward to seeing her continue to spearhead initiatives.
A long way to go. 
With so much on the horizon in the world of accessibility, we have a lot of work to do. It's not just our solutions on our mind, but additionally our marketing materials, documentation, external-facing web pages, and internal training. We've recently added captions to our videos on our website, along with alt text for images to assist with screen readers. Additionally, we're planning on the below initiatives:
Training for designers including color-contrast details, alt text and icons moving forward
Introduce screen readers to our designers
Instruct developers how to do automated testing and lighthouse audits
Include people with a visual, hearing, motor and cognitive impairments into our design personas
We welcome your feedback on the accessibility of Cosaic's website and software solutions. Please let us know if you encounter accessibility barriers on Cosaic.io by emailing accessibility@cosaic.io. Look for a response within five business days.
We join you in celebrating this Global Accessibility Awareness Day. Users of all abilities should have equal access to our solutions, and we're here to help our clients create accessible solutions for them sooner rather than later. There is much, much more to go on our journey to accessibility, and we look forward to updating you with future developments.
Contact us for an accessibility features demo.