Optimize the tools you have.
In order to respond to a variety of client requests, agents must switch between different applications or browser tabs, and rekey or copy/paste information. Clients are on hold while the agent does busy work before (or after) calls, and the quality of call handling is low when agents are fumbling between applications.
According to Harvard Business Review…
context switching between apps can cause a 40% loss in productivity.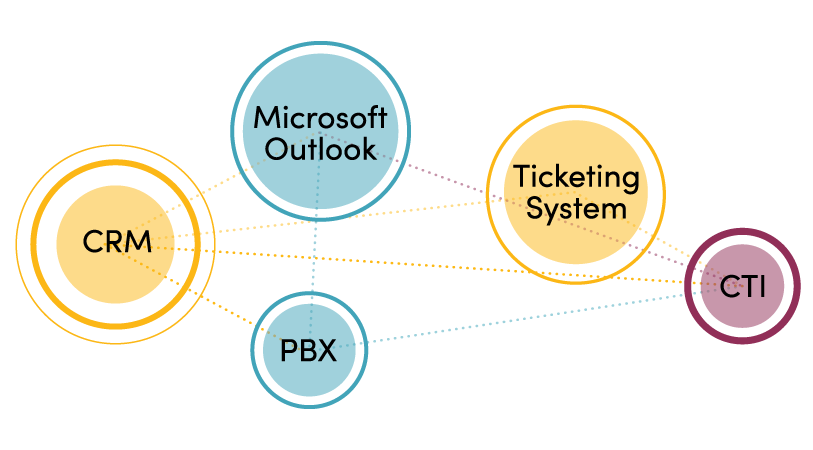 The solution? Connect all of your existing applications together.
Finsemble is a desktop integration platform that allows you to easily connect all of your applications to create a streamlined smart desktop. See relevant customer information across all your apps in one workspace view. Intelligently screen pop on calls, pre-populate fields, and automate entire workflows—all without replacing your apps or trying to re-skin them.
Benefits
Improve efficiency of agents, reducing the overall staffing cost
Increase customer satisfaction, resulting in improved client retention and brand loyalty
Avoid the cost of replacing major software systems because they don't integrate
Use best of breed software for each function—don't compromise in order to consolidate on a single platform
Did you know? It's a Yes! to phone support.
Across the board studies show how much customer support matters. But did you know phone support is still the leading support channel? According to the Microsoft 2018 State of Global Customer Service Survey:
59%
of respondents have higher expectations for customer service, now more than ever.
95%
indicated that customer service is important to their choice of and loyalty to a brand.
39%
still prefer phone or voice channel with 20% email and 16% live chat not even close.
The evidence is clear. Clients want call center support now more than ever, and they want their call center agent to be knowledgeable, quick, and efficient.
Improve your metrics.
Create smooth operators.
Decrease:
Average speed of answer (ASA)
Percentage of blocked calls
Call abandonment rate
Average time in queue
Agent after-call work time
Improve:
First call resolution
Quality of call handling
Service level
Overall agent performance
Customer satisfaction
Improve your call center efficiency immediately.
With confident agents, delighted customers and optimized productivity with connected applications, you'll see your reputation growing as a CX leader. Finsemble for call centers is what you need to improve your KPI immediately.
Download the Contact Center Integration Whitepaper PDF