It's Pride Month, and we want to recognize that our diversity and inclusivity at work is possible because of progress achieved through the significant and sustained fight for human rights.
Around the world, June is recognized as LGBTQIA+ (Lesbian, Gay, Bisexual, Transgender, Queer, Intersex, Asexual, and other identities) Pride Month.
Pride Month commemorates a tipping point in queer history — the Stonewall Uprising, which lasted 6 days in Manhattan in June 1969 as police clashed with LGBTQIA+ protesters. Named for the Stonewall Inn, a gay bar in New York City's West Village, the dispute arose between queer patrons and "sting operations" by the police who enforced anti-LGBTQIA+ laws.
Pride celebrations attract millions of participants each year as queer communities and allies honor the queer identity through parades, protests, workshops, lectures, and more.
Today, 5.6% of U.S. adults identify as LGBT and this number is increasing. Within Generation Z (those born between 1997-2002) 15.9% self-identify as LGBT and an additional 5.2% did not identify as straight (source: Gallup 2021).
And yet, the LGBTQIA+ community around the world faces human rights obstacles to this day, from many countries and even many U.S. states.
As we highlight our support this month, we choose to educate and champion diversity and recognize the many sacrifices and risks countless individuals and advocacy groups have made so that all people can live their lives to the fullest, free from discrimination, and with full and equal protections under the law. From well before the Stonewall Uprising of 1969, the LGBTQIA+ population worldwide has fought to secure civil rights for their community. Only beginning in the 1980s did some U.S. states pass laws banning discrimination on the basis of sexual orientation, and only in 2020 did the United States Supreme Court hold that sexual orientation and gender identity are protected from discrimination under the Civil Rights Act of 1964. Additionally, marriage equality is only recognized in 30 of 195 countries.
Tragically, in some parts of the world (71 countries as of March 2022), being a member of the LGBTQIA+ community can be legally punished with a prison sentence or even death. In the U.S., there are still laws in 13 states that exist to suppress the LGBTQIA+ community. Section 28 in the U.K. (in effect from 1988 to 2000) created setbacks for equality with its controversial interpretation and application. And despite current anti-discrimination laws in the U.S. and U.K., where we have our Cosaic offices, in many areas of those two countries unsafe and unequitable work environments are pervasive. There is much work still to be done to achieve full and fair human rights for all people. There is much work still to be done to achieve full and fair human rights for all people.
Here's what we're doing and here's what we can still do:
Inclusive Language
LGBTQIA+ inclusive language refers to positive word choices that respect the differences and diversity of people in the workplace, including their bodies, genders, and relationships. Use of the acronym LGBTQIA+ has become more commonplace, however members of each of the unique groups represented (Lesbian, Gay, Bisexual, Transgender, Queer/Questioning, Intersex, Asexual, and other identities) do not always feel safe, welcomed, included, or that they receive fair treatment in their personal lives or at work. Although most people refrain from using offensive language, there are other instances where seemingly innocent everyday language can make people feel uncomfortable and excluded. Using LGBTQIA+ inclusive language in the workplace ensures that everyone feels respected and included in communications, conversations, and discussions, creating a positive work culture for all. Language continues to evolve, and it's important to stay up to date with these changes. That way we are always promoting LGBTQIA+ inclusive language.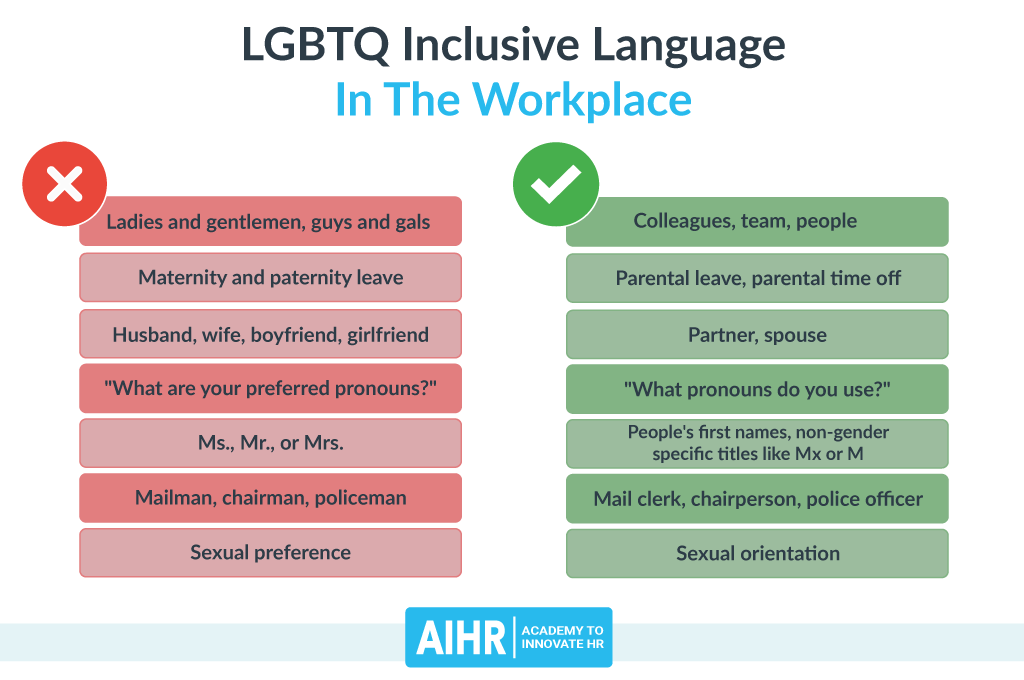 Inclusivity in Hiring
We recently updated Cosaic's Careers page in an effort to better depict who we are behind our name and world-class software. While we're not the first company to do so, we solicited pictures from employees that show who they are beyond their work title, and we think that helps show something priceless: we're a diverse group at Cosaic — in appearance, pastimes, experience, gender, age, race, sexual orientation, gender identity and expression, and countless other ways — and we want that to be obvious even before you meet us. It is our hope that the LGBTQIA+ community feels our unwavering support through our paid parental leave, use of pronouns, gender neutral bathrooms, and our company's commitment to continue improving diversity, equity, inclusion, and belonging.
Today, and every day, we invite our community of clients, partners, friends, and colleagues to stand with us as we support the LGBTQIA+ community: to foster environments which inspire, encourage, and value those who challenge our ways of thinking means that we can move society towards love. It's this diversity that creates our amazing products and makes Cosaic an incredible place to work.
We stand in solidarity and allyship with our LGBTQIA+ friends, family members, colleagues, and community members, and you can too. Consider supporting one of these organizations that do so much to provide for the community:
It is our hope and responsibility that our diverse workforce feels supported, empowered, and that they can bring their full selves to work every day, not just during Pride month.
Love wins.